I'm really looking forward to January.
There's usually a bit of a lull after Christmas. The pretty lights and the glittery decorations are gone, the effects of far too much rich food and booze the previous month really start to make themselves feel known, and if previous winters are anything to go by there's another month to go before we get a good snowfall to brighten things up again.
But this January I hope not to notice any of that, because I'll be hovering by the postbox in anticipation of the arrival of my Tantus Rumble.
I like my Tantus toys.
They could have been a horrible disappointment. People speak of them in awed tones, and my reaction to the Tantus Echo was so positive I was almost sure it was a fluke. Okay, so I know what kind of toys work for me and I've purposely sought out their textured, angled dildos.
Even the poor Tantus Purr… I have half a review written, but thorough testing coincided with herpes, then thrush, then heartbreak. The thing is, in my less overwrought moments, I still rather enjoyed how it felt and what it did to me, and I know that as time goes on I'll be able to give it a much fairer go again. Part of me is tempted to keep it by for when the Rumble arrives.
Tantus say the Rumble will be featherweight (less than 200 grams if my calculations are right) but super powerful and, as the name suggests, on the rumbly end of the spectrum. They've designed it so the power button and the speed controls are separate (hurrah! No more frustrating thumb moments!).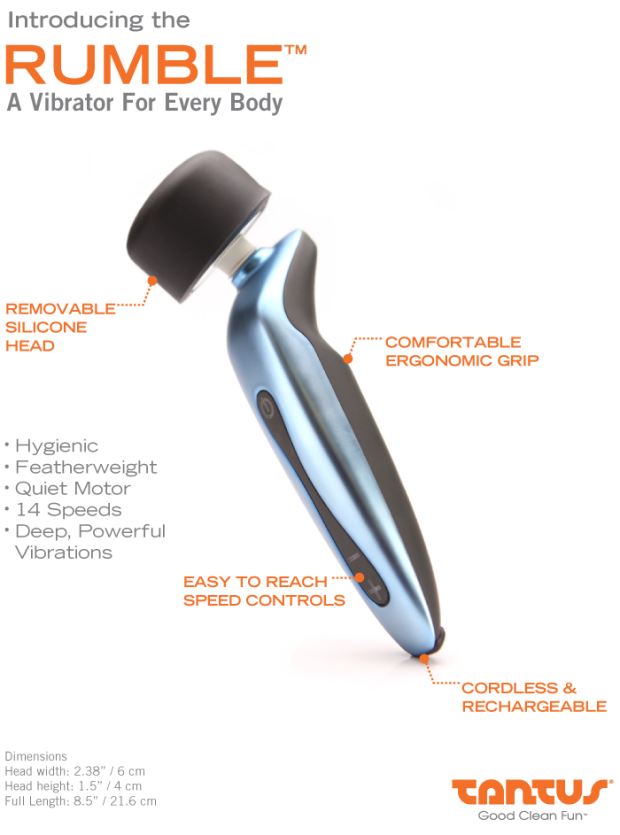 The whole thing appears to be not that much bigger than one of Tantus's dildos, at 8.5 inches long. The body looks a bit like a set of hair clippers, but the business end has a broad removable silicone head – which should make cleaning it a cinch. At this point there are three other heads available: the Spoon, the Dorado and the Convertible.
The Spoon is designed for G Spot and P spot stimulation, and the Dorado sounds like it's supposed to emulate the flickering of a tongue. I'm most excited by the Convertible, which promises to turn suction base and vibrating dildos into *proper* vibrators.
That's the one I've gone for.
I love how the Echo and Tsunami feel as dildos, but the gorgeous squishy silicone pretty much kills the vibrations provided by the RO-80 bullets that come with them. If the Rumble is as powerful as Tantus are promising, it'll give some of my favourite toys a whole extra dimension.
The Rumble is still in the crowdfunding stage; Tantus are hoping to raise $50,000 in 60 days. Last night, after less than two weeks of funding, they've already raised more than $21,500 of that.
Donations range from $15 (about £10 at the current exchange rate) for a warm glow, thank you card and discount voucher towards a future spend with Tantus, to $250 (just under £180), for which donors get the Rumble plus all four existing heads, plus various other bits and bobs including a Tantus mug (oh how I want to drink my tea from a Tantus mug in the office).
I'm excited because it's Tantus, but also because I'm still looking for the perfect wand.
The Doxy massager was powerful and quiet, but I didn't get on with the size of the head (or the layout of the buttons). The Lelo Smart Wand Medium is light and seems to vibrate at the ideal frequency for me, but it doesn't have the power I sometimes need. The Lovehoney Magic Wand Deluxe has the power and a wonderfully user-friendly control wheel but the head and the vibrations don't seem to feel as good as they used to.
I know… there's no such thing as perfect.
I am concerned that the size and weight of the Rumble will limit the strength of the vibrations. I fear that I'll love the way it makes my dildos vibrate so much I'll either have to fork out for another, or put up with an inferior wand on my clit.
But that's getting ahead of myself, and I am nothing if not optimistic.
Roll on January.