It seems to be the season for it. Girl on the Net has discovered the altered state of consciousness that comes with the right wand. I found myself apologising afresh for the mangled sounds and hysterical giggling easily loud enough to be heard on the street and by pretty much all of my neighbours.
Girl on The Net has become the latest disciple of the Doxy Wand. The cause in my case was this, a bizarrely attractive silicone-filled-with-tiny-fuzzy-craft-balls knobbly dildo from Chavez Designs.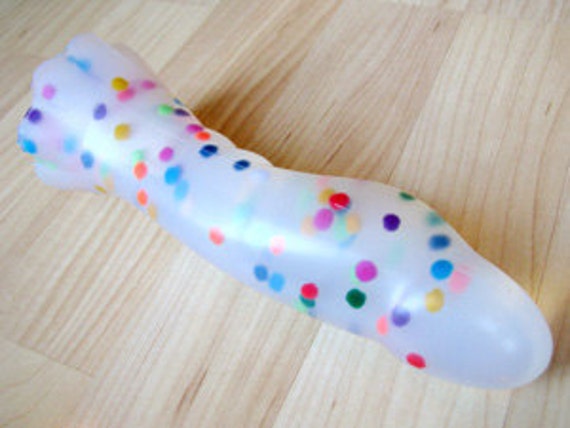 Once known as Jollies, the company folded not long after Epiphora first stumbled on their goods, but thanks to the internet and enterprising offspring, you can now find their amazing toys on sale alongside equally original ashtrays.
But never mind that.
The Jollet.
The bump is what makes it special. It hugs my G-spot, a bear hug at that. As Epiphora says in her review, you don't need to thrust. The slightest bit of tugging is all you need. If, like me, you can't help yourself, and end up thrusting a little more, be prepared for explosions of not-words, grunts, alternately wide-eyed-screwed-shut levels of loss of control. And to have to apologise to your neighbours. Repeatedly.
The bullet hole in the bottom is a perfect fit for my finger, so the slightest waggle is easily achieved with very little effort. It also takes an RO-80 bullet vibrator very snugly if your fingers are prone to tiring – but getting the vibrator out again is a struggle not best tackled in the post-orgasmic flump this thing brings on.